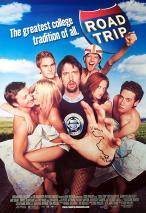 Road Trip Reviewed
The film is about Josh, a sweet kind-hearted boy who has been going out with the same girl ever since Junior High. But now, they're both going to college in separate parts of the country. Josh feels that his relationship is threatened by the distance that separates them. One night, Josh drinks a bit too much and he has an affair with a girl, Beth (Amy Smart), who has a thing for him. Beth wants to videotape their frivolous night of passion, and Josh agrees to go along with this (duh!). But there is one problem; Josh's roommate mails the videotape to his girlfriend Tiffany by mistake.
Now, the four friends have to go on a road trip in order to stop the tape from reaching Tiffany. And of course, this is a trip that will go down in history.
The funniest of all characters is, ironically enough, played by Tom Green. Green is one of the roommates who doesn't go along for the ride. But yet, he is the one narrating the story. Green is the king of gross-out comedy. He has no borders. He will do anything for a few laughs.
Breckin Meyer
Tom Green - Paulo Costanzo - Seann William Scott -
Amy Smart
****